The Spanish Summer
Submitted by Helen Bridge
Chabot College

If you were on campus during the summer of 1986, maybe you remember the unusual guests who spent their mornings learning English during Summer Session at Chabot College. Along with their bilingual teacher, thirty one students from Spain came to Hayward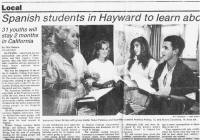 to increase their mastery of the English language, and at the same time, to learn something about America. It was my good luck to be their English teacher, and also to share my home with their young teacher from Spain. Each of the students was housed by a local resident, who brought them to school each weekday and picked them up after class or after one of their many field trips. The students were curious about America, of course, and also very candid in their opinions. Not all of those opinions were complimentary. For example, they declared early on, Americans are too nationalistic and know little about the rest of the world.

Working on English speech with these special students was both challenging and fun. Their Spanish teacher, Salud Palacios, was bright and engaging, and she kept our rambunctious charges on the right path. Lessons were stringent but occasionally playful. She suggested many field trips and accompanied them on their bus trips. I usually went along as well. Among other places, we showed them the Livermore Lab, the Santa Cruz boardwalk, the Capital in Sacramento, PineCrest Lake in the Sierras with a swim, and the Napa Valley without wine tasting. At the lab, they had the chance to meet Edward Teller. In Napa, we ended up, after a loud and insistent outcry by everybody on the bus, at a place far off the scheduled itinerary. They wanted to see the winery where "Falcon Crest" was filmed. That cheesy TV series was evidently as popular in Spain as it was in the U.S.

Another thing our young visitors insisted in doing was going to see the current mega movie in theaters that summer. A young Tom Cruise was starring in "Top Gun" at a local movie house, so after classes one day, all of us went to see it. The Spaniards, both boys and girls, just loved It. They loved the dog fights in the skies and the competition to become Top Gun. They loved the American scenery and the aircraft carrier. They did think, however, that Tom was too macho and cocky, and that he was way too short for Kelly McGillis to really fall for. As we left the theater, I remember one young guy rolling his eyes, saying something in his halting English like, "Americans really think they're the center of the universe, don't they?"

One weekend afternoon, my husband and I had a birthday party for one of the young men. There was swimming in our backyard pool, lots of Marko Polo games, and general rowdy tomfoolery before an early evening buffet meal which Salad and I had prepared. When our young charges saw me filling my plate with the assorted dishes, they stopped to stare incredulously. They let me know, quite vocally, that in Spain, only one item is put on the plate at a time. You eat it, they said, then take another item. No mixing of food! Only gauche Americans do that. They also complained about the fact that they had to return to host homes and be in bed by around 11 PM. In Spain, they reminded us regularly, they had a better daily schedule. Workers stay on the job until 8 P.M., with a long rest time in the middle of the day. Rest time outs are normal for young people as well. After work, though, it's time for everyone to go out for tapas and drinks and late evening activities. NOBODY goes to bed as early as 11 PM, they said. They also were astounded to hear that my husband and I didn't have any servants to cook and clean up. Everybody, they seemed to think, would have servants if they had a nice home, just as they do in Spain.

By the time they went back to Spain, the students finally seemed to realize what a special summer they had experienced. Their host families had done additional things for them, they had learned quite a bit of English, and seen many special places in California. For me, the best part was that I had made a lifelong friend. Salud and I corresponded after she went back to Spain, and when she returned to the US the following year, she stopped in the Bay Area before traveling on to Southern California. We picked her up at the airport in San Francisco. We were joined by my grown daughter and her good buddy, a pleasant young guy named Kenny. He and Salud seemed to hit it off immediately. They drove up with us to our mountain cabin a few days later, and the two of them sat up all night, talking in the loft upstairs. They quickly fell in love, and married a few months later. My husband walked Salud down the aisle, and I stood up with her in place of her mother. We felt honored to be part of that lovely ceremony. A few years later, they also had a formal wedding in a beautiful Catholic church in Spain.

All these things happened over a quarter century ago. Salud and her family now live in a lovely home in Roseville. She and Kenny have two children, and the oldest one, a son, just graduated from high school with outstanding grades and a great future. Their daughter is bright and beautiful and bilingual, just like her brother. And in another surprising development, Salud's sister came over from Spain one summer a few years after Salud's wedding. She met Kenny's brother, stayed here, and now they are married as well. I don't see the family nearly as often as I'd like to, but I'm still thrilled to think that a special summer teaching assignment at Chabot turned out so well for so many people.


Return to Table of Contents